Quote:
---
Originally Posted by OldBeezer
A most interesting exhaust system. Is that a Triumph triple? Daytona perhaps?:scratch:
---
DING! We have a Winner!VroomVroom
It's a Yoshimura header on a`95 Triumph Trident. I grafted it to the Jardine slip on, and modified the header.
Has the same motor as the Speed Triples and Daytona's of the same vintage, but cheaper suspension and Standard bike Ergo's without a fairing.
I've upgraded most of the weak parts of the bike though(Suspension is next, have the parts on the work bench in fact).
It's one of the rarest Hinckley Triumph models there is. Only something like 1500 were sold in the US.
Most of the Tona' and S3 parts bolt right on. (I got the seat cowell from a Daytona)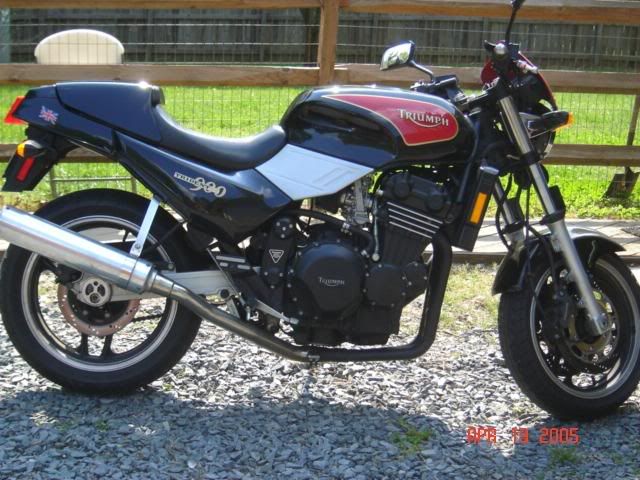 The Yosh header was routed right under the oil filter. So I had to remove the header to change the filter.
Been doing it for 7 years now.
The Yosh silencer was destroyed in the crash last year, so the opportunity to modify the header presented itself when Ebay provided me a fantastic deal in a Jardine replacement slip on from a different model bike.
I finally got the header modified last week. Now I can change the filter and only remove a connecting pipe that removes with springs. Much easier than removing the header.
This is how the header was....(Notice the oil filter housing just above the end of the header :roll: )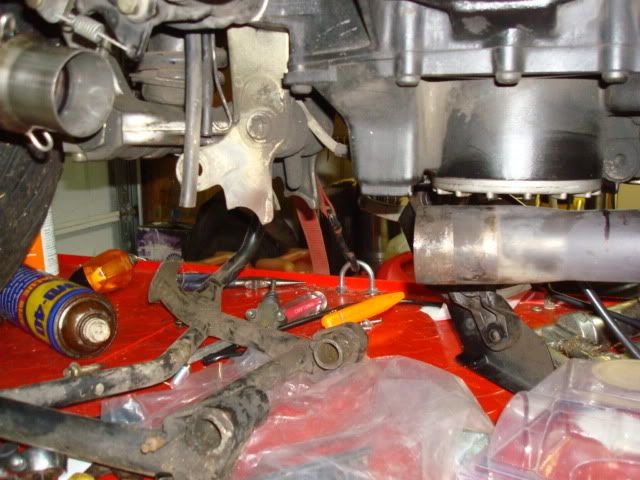 The exhaust guy shortend the straight pipes on the bottom, and replaced a "Y" Collector . (I didn't go with Stainless Steel, had a Automotive performance exhaust place do it)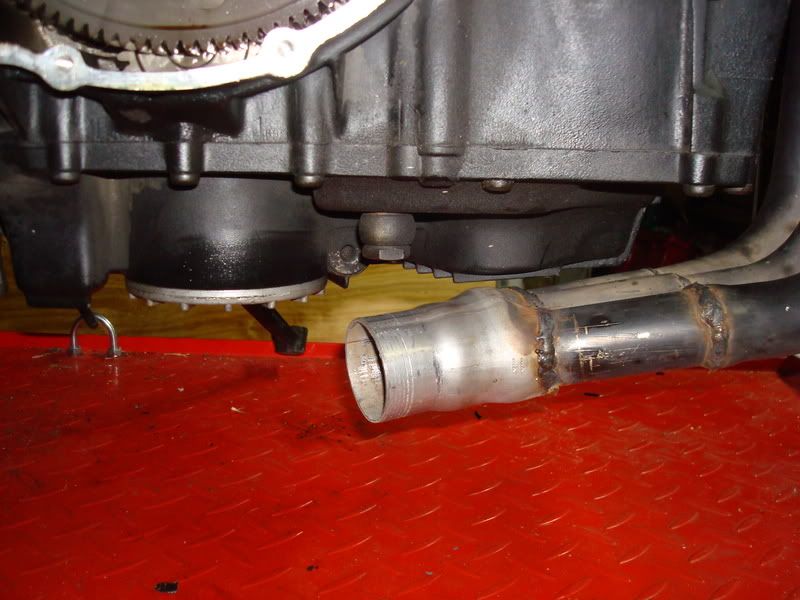 The welds look kind of ugly, but thats because he couldn't run a bead with the Mig welder because the header was really thin Stainless tubing and it would have blown away. It required spot welding with the mig, so the welds need to be cleaned up with a grinder.
Here's the Jardine mounted. (I made the custom aluminum bracket myself)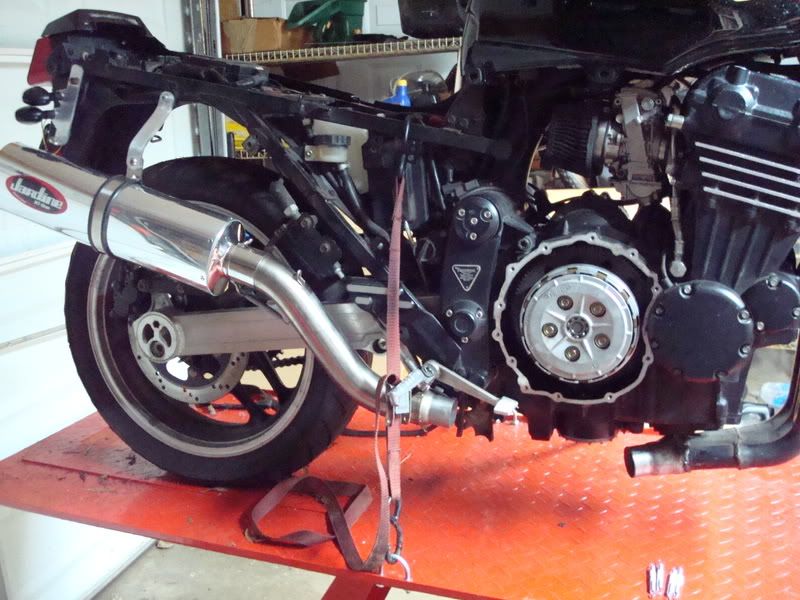 Here is the custom connector pipe for the system...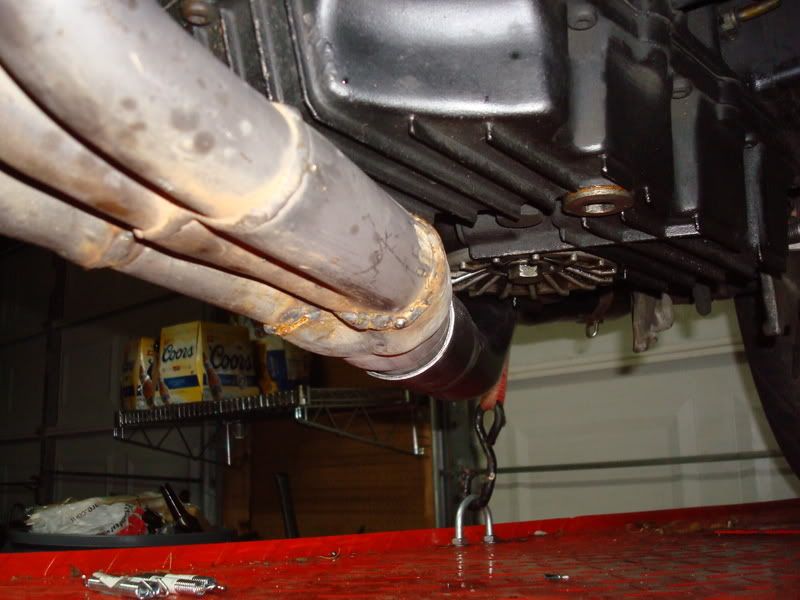 You can see here, it's been successfully spot welded in between the new "Y" connector...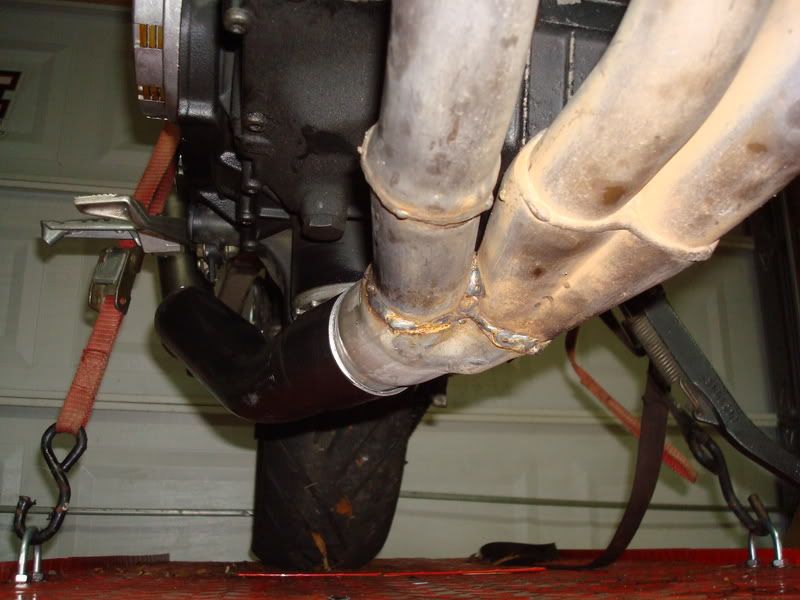 I'm hoping it doesn't drag in the turns. If it does I'll have to remake the connector pipe and milk some more ground clearance out of it somehow. (I left extra room, so the center stand might fit, that room can be sacrificed if neccessary)
Powder coating is an option, but rattle can black on the exhaust has satisfied me up to this point. (Yeah, I painted over the Yosh Stainless Steel :) )
The bike sounds completely exhilerating now. It's a lot louder, and flows more. This should mean a direct torque curve/power improvement since the bike has Keihin FCR racing carbs on it and they didn't have enough flow with the restrictive quiet Yosh slip on.
The bike sounds like it's a whole lot meaner now.