I'm on spring break from teaching right now and have had a blast on the WRR riding around "back home". Yesterday I did some exploring in an area of western PA that I knew well as a kid, but never checked out on a bike.
Anyone remember the film "Stand By Me"?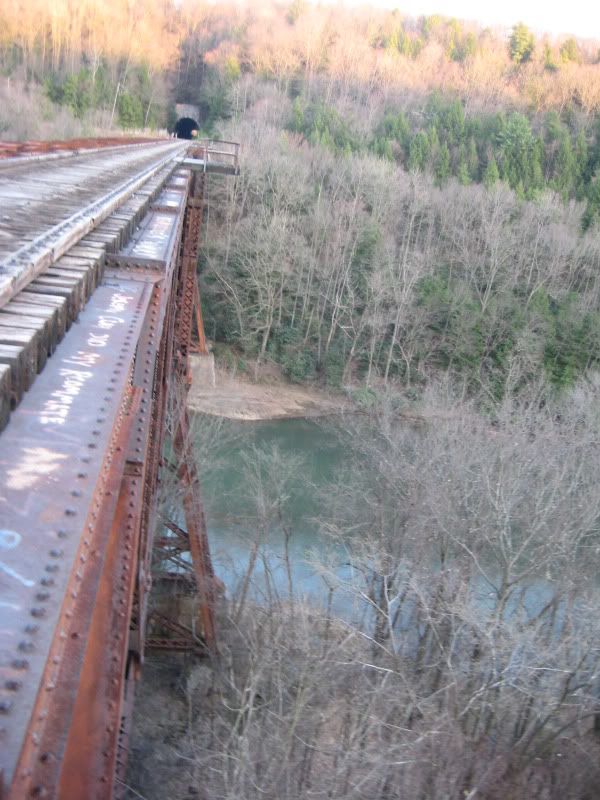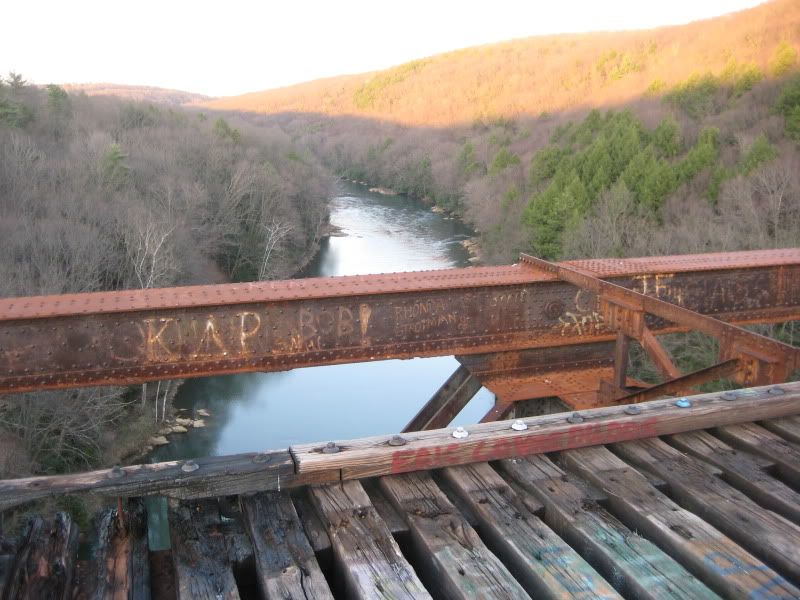 There are 2 tunnels and 2 very high, very long RR trestles in this area along a long-abandoned RR line. I was probably 6 the first time we went there - not sure if trains were still running back then, but I know it's been well over 20 years since a train has crossed.
We rappelled off the larger trestle in college - my 160' rope wasn't near long enough to reach the river's edge, so we had to "land" quite a ways up the riverbank. I dropped some rocks off and timed their descent - came up with about 190 feet height...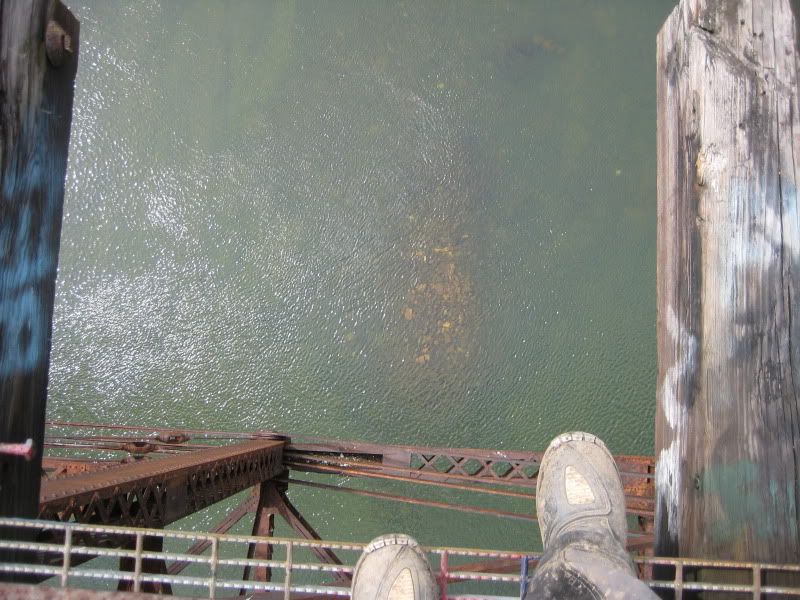 To say that riding across this, alone, on a windy day was a "bit scary" is an understatement! Like any rough terrain, the faster the better. Just didn't want to get going TOO fast up there...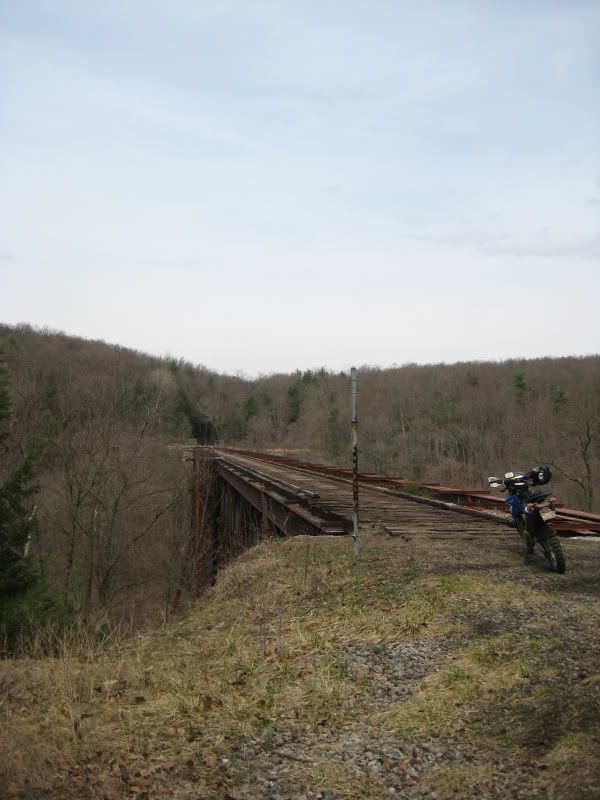 Especially scary when you encounter a missing RR tie: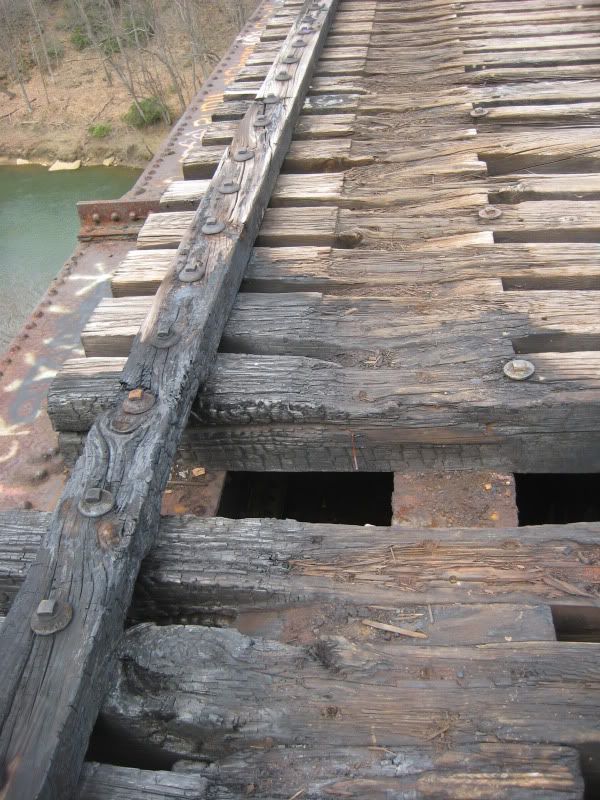 TWO missing RR ties took the cake. I honestly don't remember this exactly when I rode across (I had doubled back on foot to take the pics), likely just closed my eyes and gassed it. This pic still gives me chills...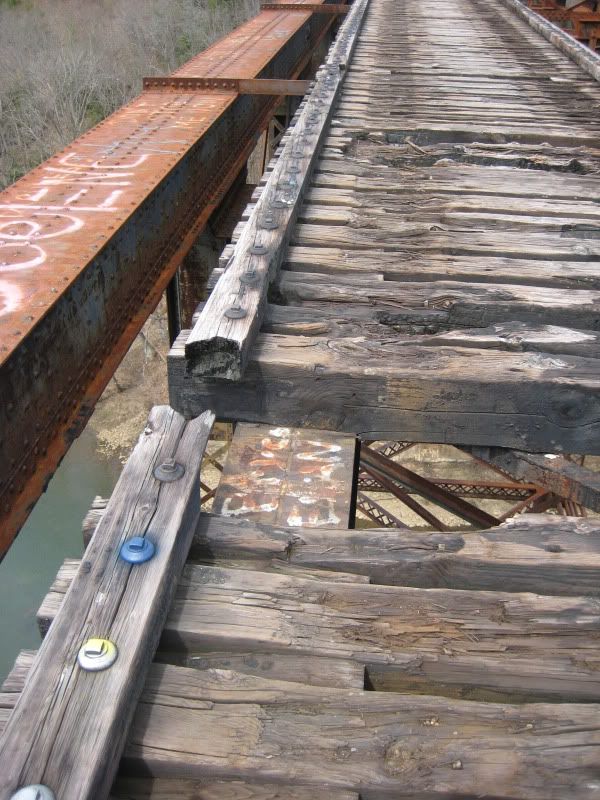 Obviously I made it, went on to check out Tunnel #1. It's about 3/4 mile long - when you're in the middle of this thing w/o a light source, you can't even see your hand in front of your face.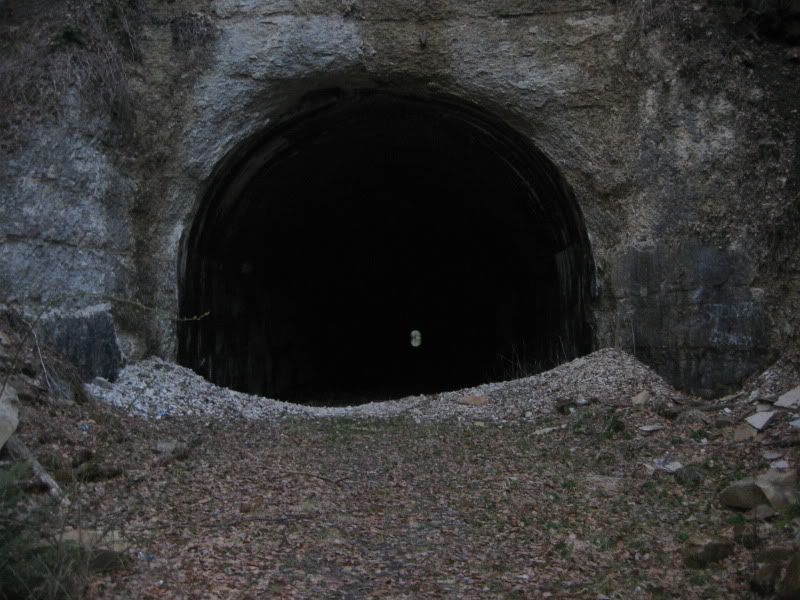 Tunnel #2: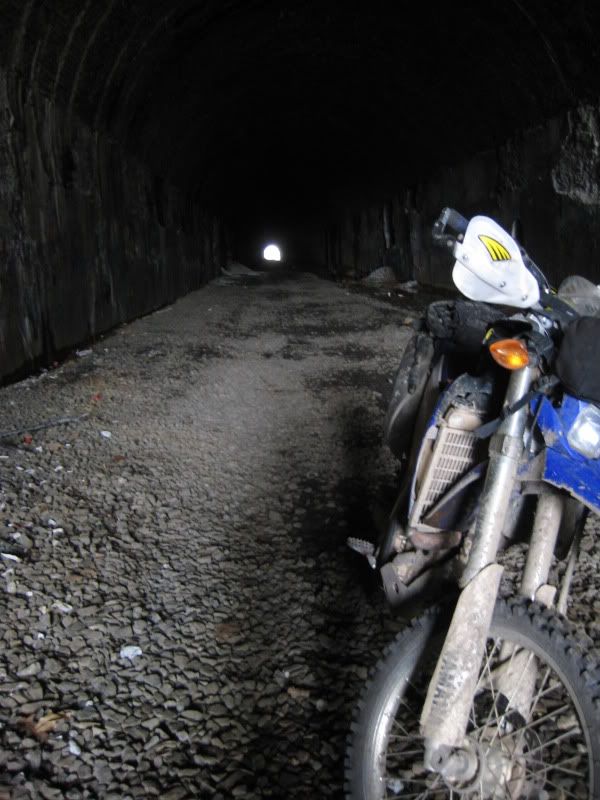 Tunnel #2, same spot looking forward. Unfortunately #2 is starting to cave in at the far entrance.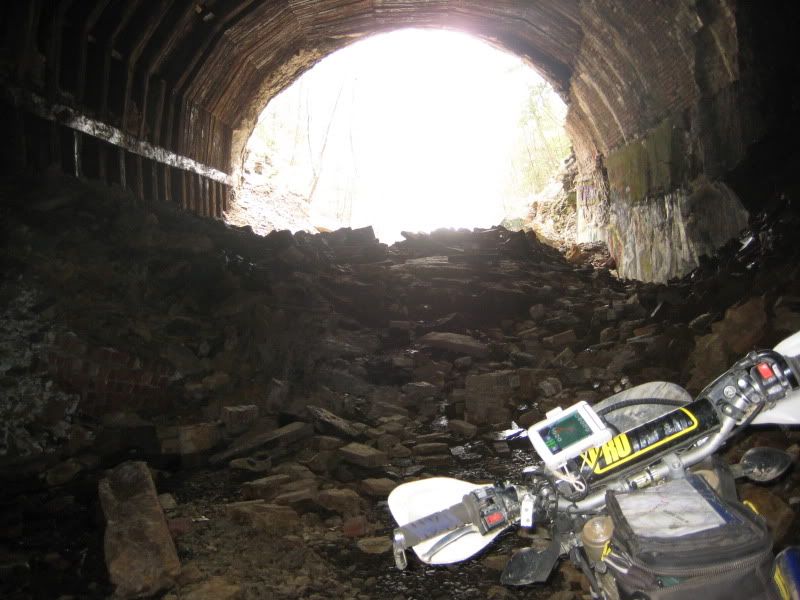 It's cool to see the many layers of carefully placed brick, and the "backbone" of timbers - which were in really good shape after 100+ years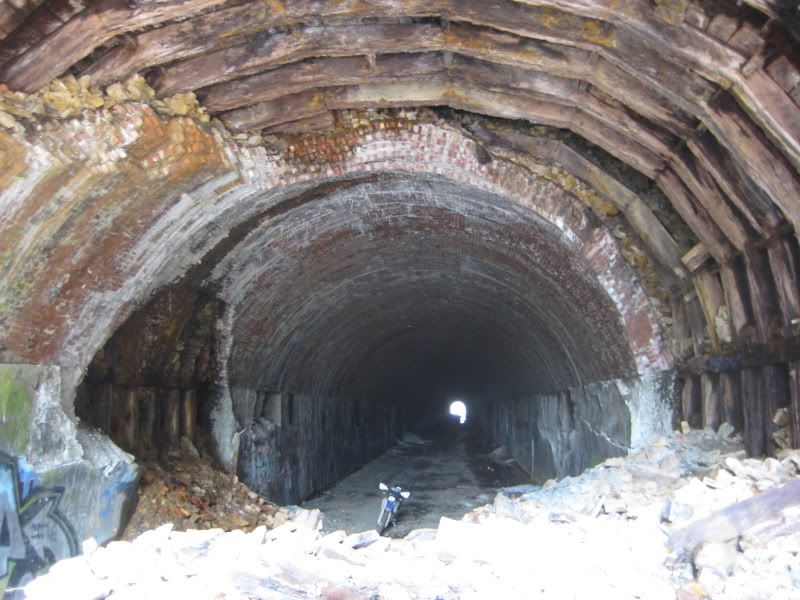 Even though the snows melted over a month ago, there was still a huge chunk of ice at the entrance: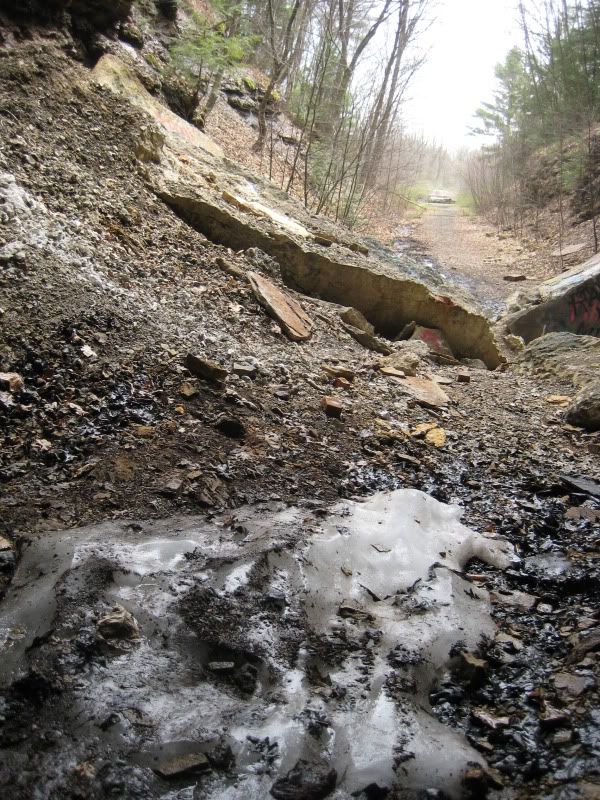 After exploring around the RR tunnels & trestles, I decided to check out some of the side trails branching off from the area.
One trail led to a very gnarly wooded hill climb, another was a great ATV path following an ancient narrow gauge RR grade high above the river for several miles. Just sweet riding...
Eventually I encountered pavement, but less than 1/2 mile away I spied an inviting powerline with some promising looking trails: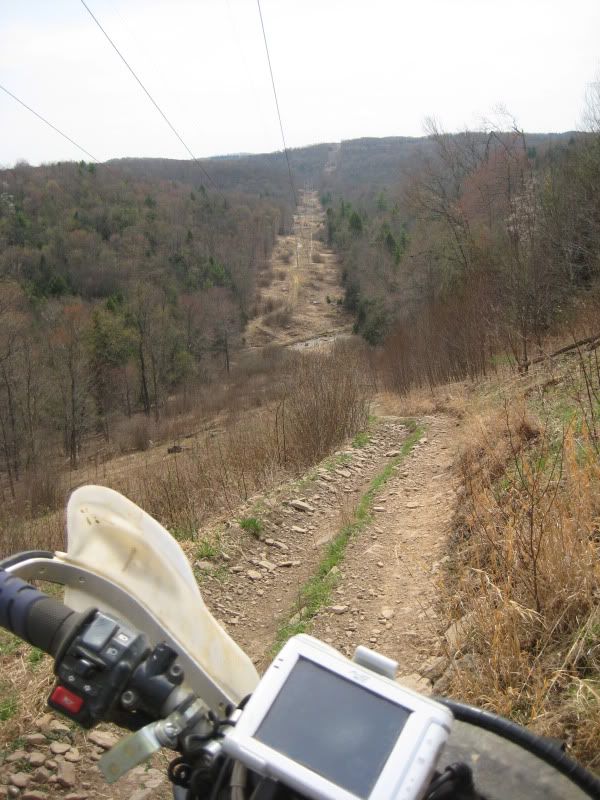 And some pretty cool "playgrounds" (notice the trails continuing off into the distance in the upper right):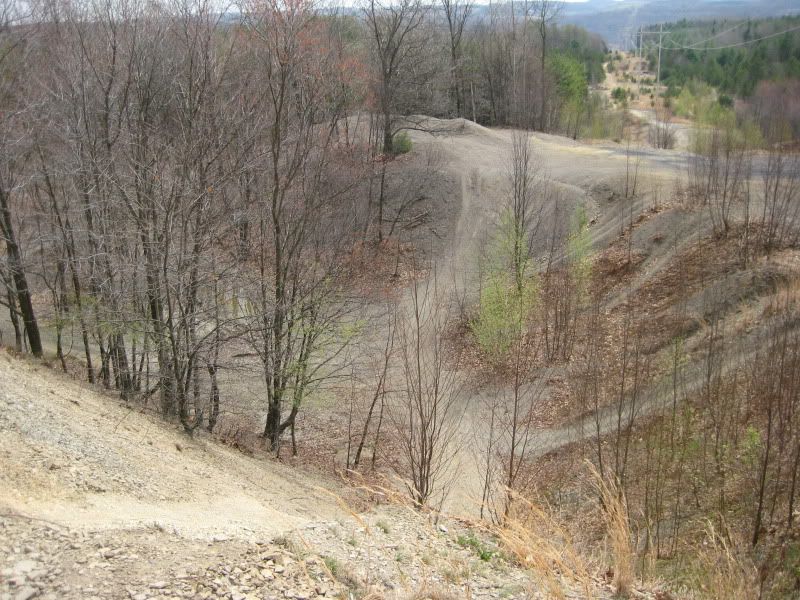 Didn't try this one, maybe next time when a buddy's with me: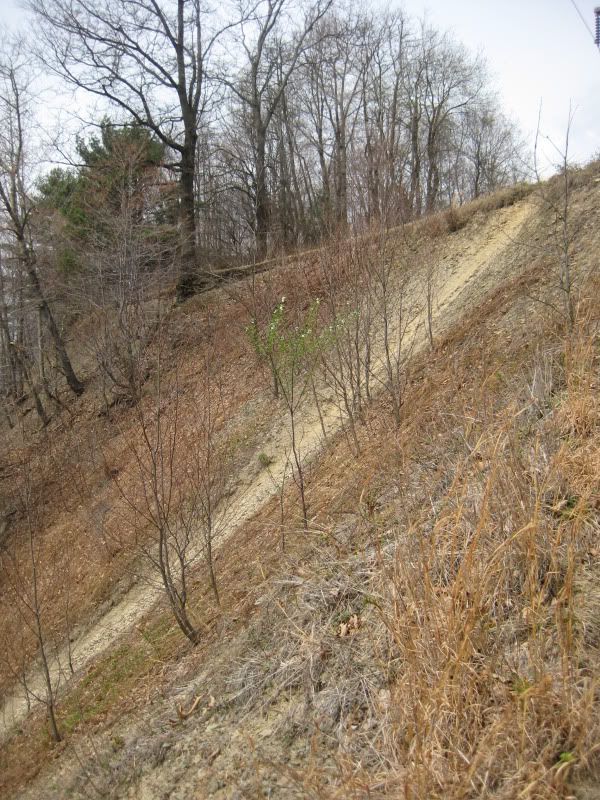 Much later in the day, I did hook up with a bud for some riding closer to the folks' place - here he is cooling off the '78 XL250: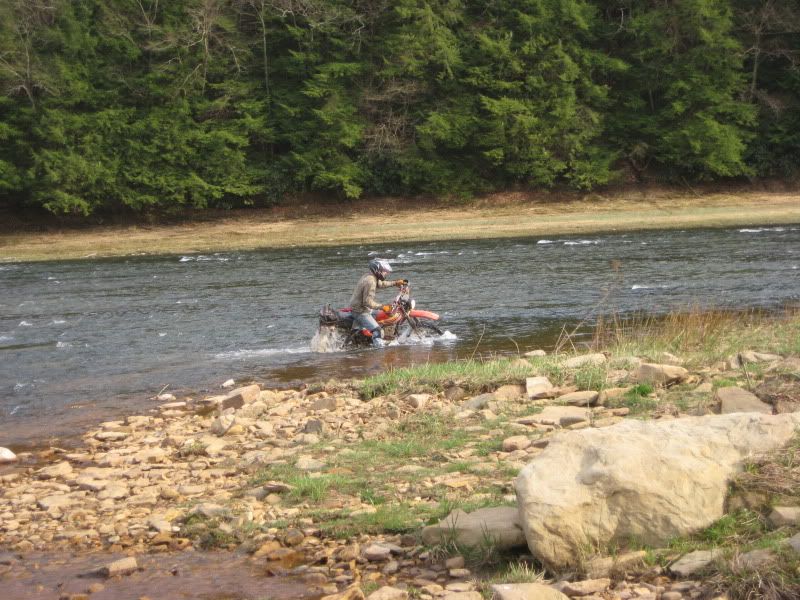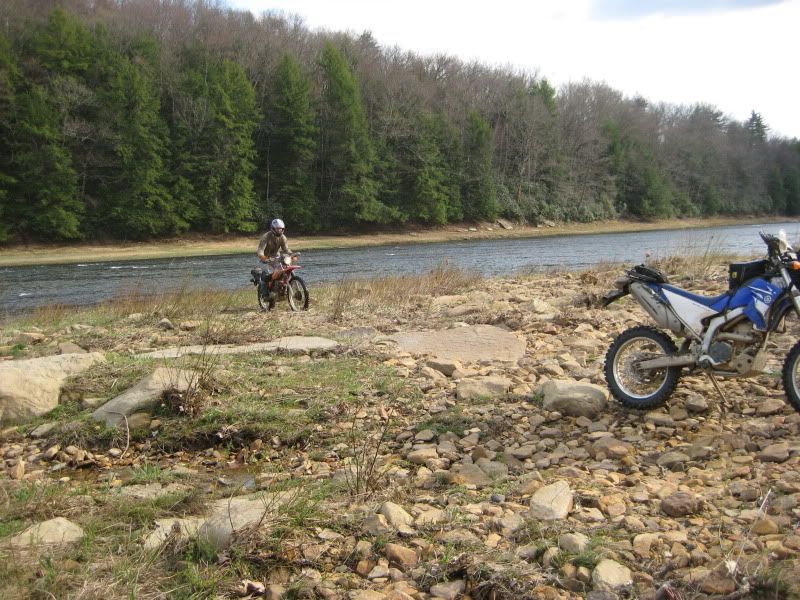 Not bad for an afternoon, gonna miss it until June when I return!