I'm selling my Suzuki RF900 to pay for the ZX-12R I recently bought. The RF900 is a great bike and has been my primary sport and sport-touring mount for the last 5 years or so. It is in great shape and has LOTS of extras. I'm asking $3400.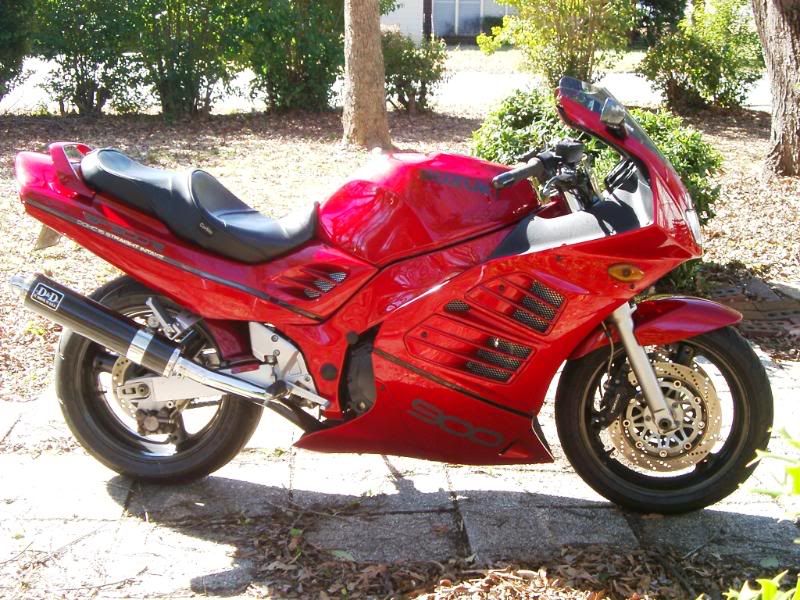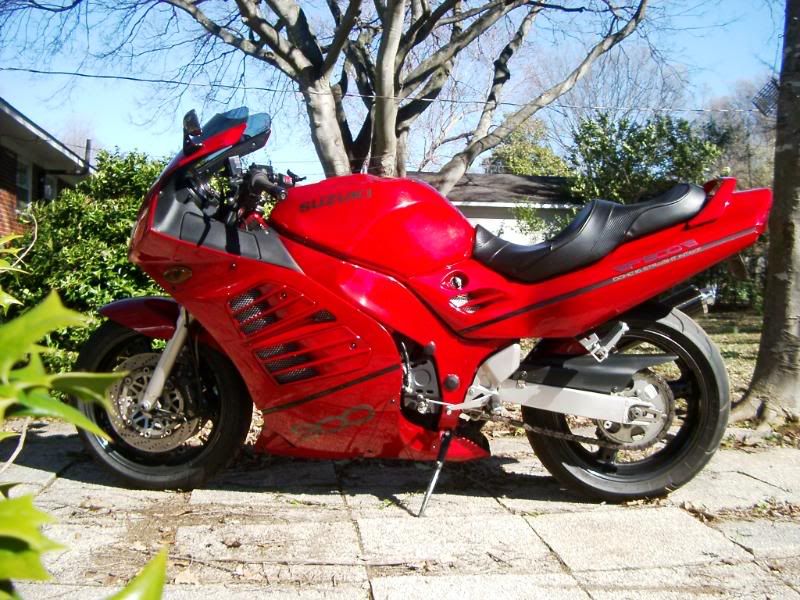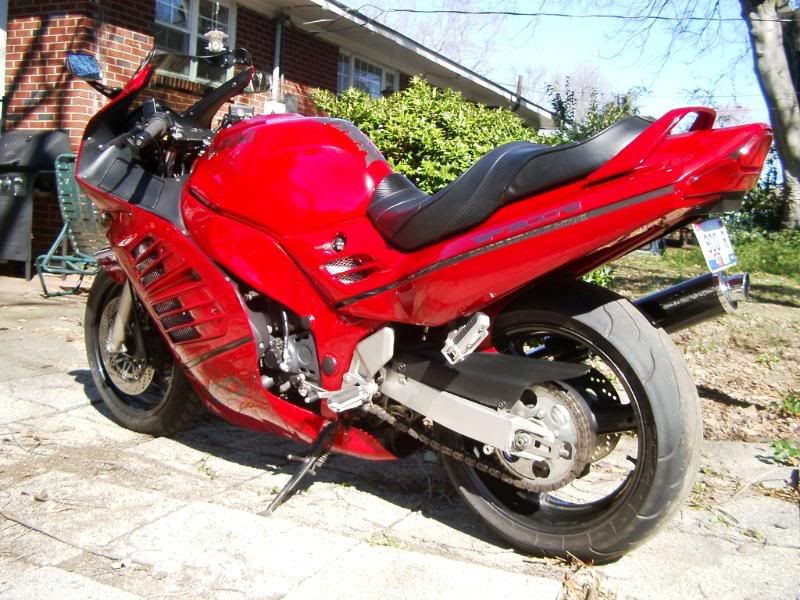 More pictures can be found here:
http://s2.photobucket.com/albums/y10...00R/?start=all
And a fancy blog-ad here:
http://rf900forsale.blogspot.com/
It has 30,349 miles on it, the last 20,000 of which were put on by me. The bike has been maintained regularly using only synthetic oil and other high quality lubricants. This past Summer the bike received new front brake pads, as well as a new quality chain and sprocket set. The Metzler tires are in excellent shape and do not have many miles on them. The bike is mechanically sound - the only thing which does not function is the horn, which is probably easily remedied - I just never did.
EXTRAS/ADD-ONS
This bike comes with a LOT of extras that significantly add to its performance, comfort, aesthetics, and value.
Performance
* Carbon fiber & chrome FULL exhaust system (not just a slip-on) by D&D
* Jet kit
* Ignition advancer
* Muzzy cooling fan
* 6-Piston Tokico front calipers (from a Hayabusa/GSX-R 750)
* Braided stainless brake lines (front and rear)
* Billet undercut 2nd & 5th gears
* Progressive fork springs
* K&N air filter
* Osram Silverstar headlight bulb (highest/brightest rated bulb available)
* 530 chain and sprocket conversion; +3 teeth in the rear
Comfort
* Corbin seat with carbon fiber patterned leather (real leather!)
* Heli-bars (move the handlebars up and back for added comfort)
* Throttle lock
* Formotion clock
* Heated grips (with high and low settings)
* Pro-Grip gel grips over the heating elements
Aesthetics
* Hugger with chainguard - painted to match
* Lockhart-Phillips tinted "Speedscreen"
* Integrated rear signals and taillight
* Flush-mount front signals
* Carbon fiber look mirrors, levers, tank protector, top bridge cover, and gas cap cover
* Custom mesh inserts in side fairings and tail piece
This bike is located in CHARLOTTE, NORTH CAROLINA. If you would like to see the bike, or if you have any questions, you can contact me at:
(704) 248-6861
Or, email me at:
Todd_ohio95@yahoo.com