Well it was a GREAT day of riding today. I'm beat so forgive me if I don't have much commentary here. My brain is tired, I've been waiting for 45 mins. for all my pics to load into photobucket, and at this moment I just want to get this thread started so the others can start posting pics and comments as well. So here goes...
10am and the crowd starts to gather...
Wanderer gearing up...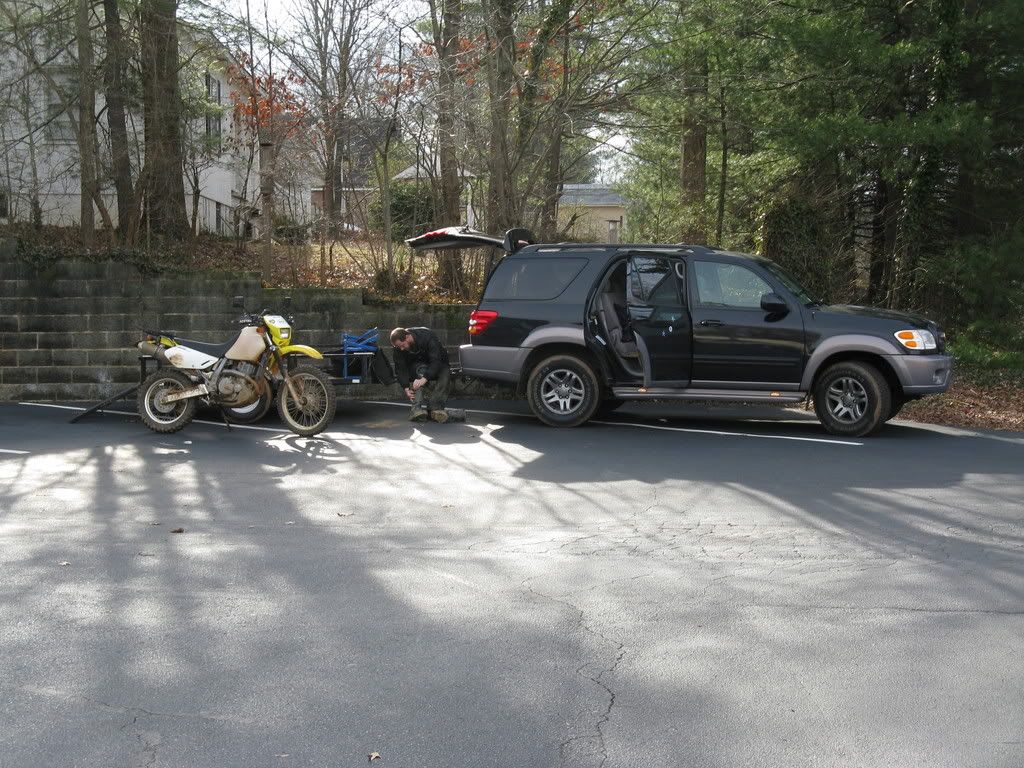 Rolled out about 10:30, stopped a couple miles up the road for gas and then it was off to hit the Richlands. Didn't snag any pics until we got to what we locals call "the playground" (no relation to the Charlotte playground LOL)...
Quite an unsitely group we've got, guys loitering, pissing all over the place, etc. etc.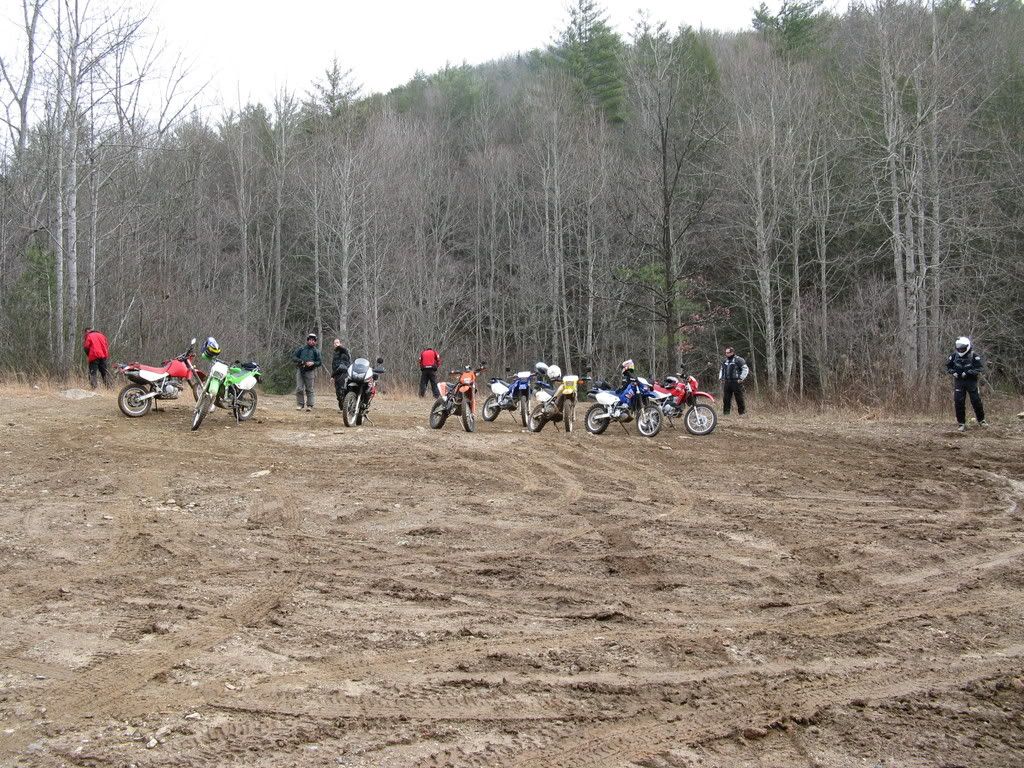 Many nasty hill climbs here and a huge mud hole in the background. Very rutted out from the Jeeps and other 4x4's too.
The mud hole in the background is about 4+ ft. deep when it rains really heavy like last week, but forgot and didn't really get a good shot of it. Nobody wanted to attempt it...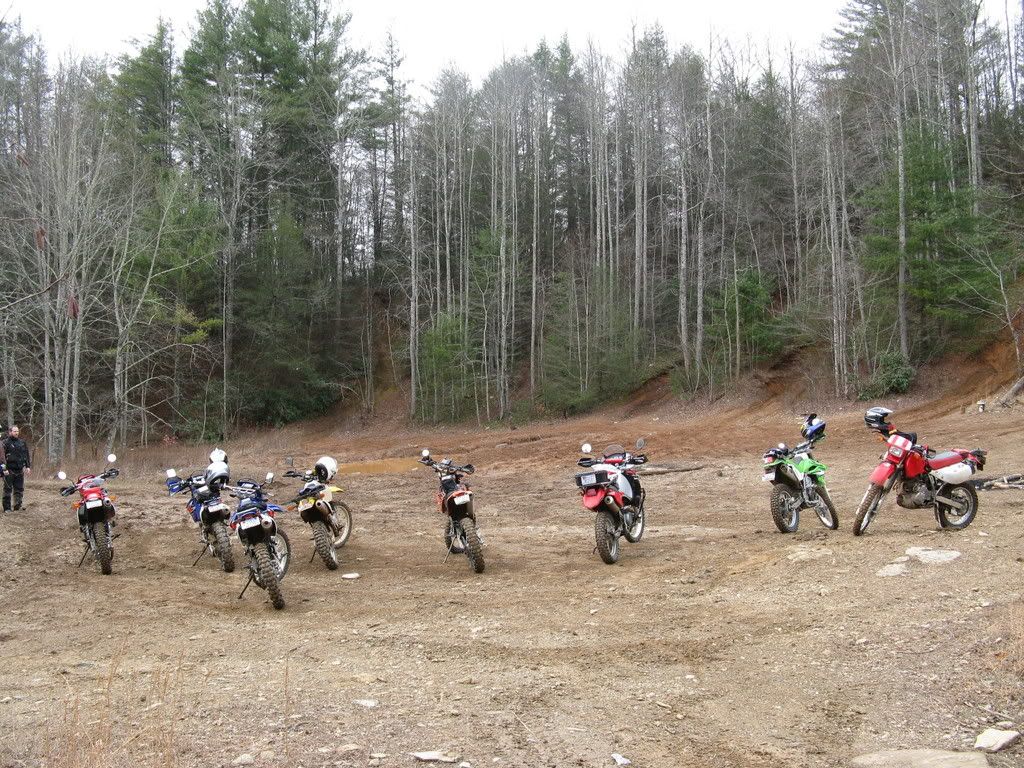 One of many creek crossings...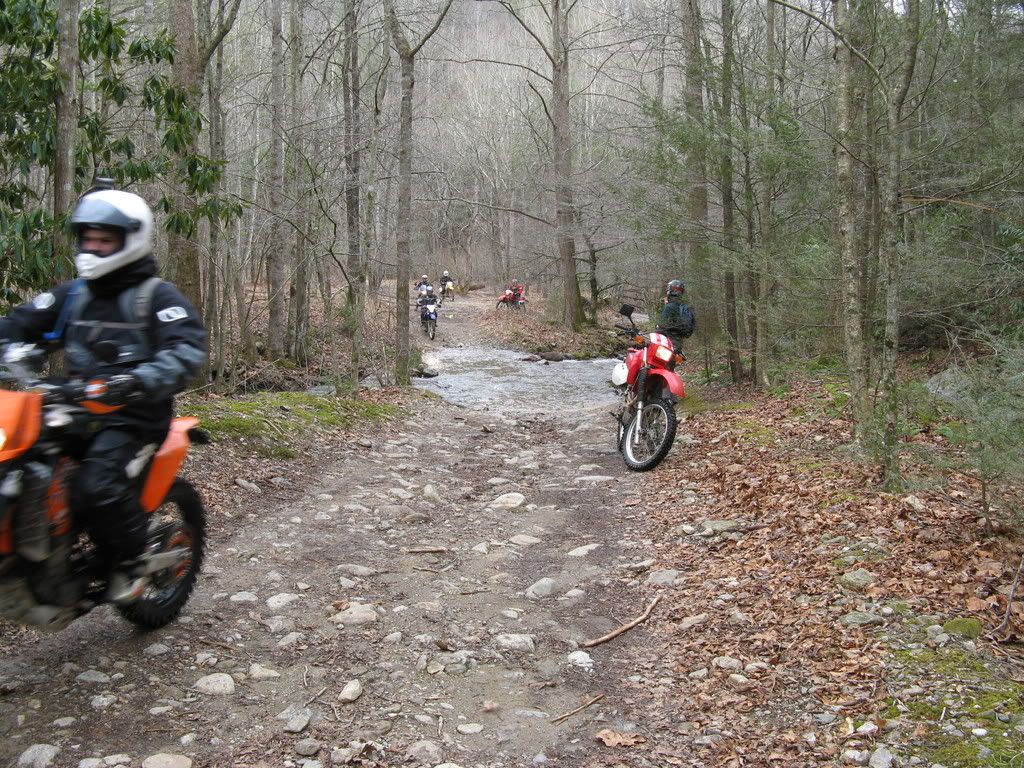 FJRman coming thru...
Adverb on the KLR...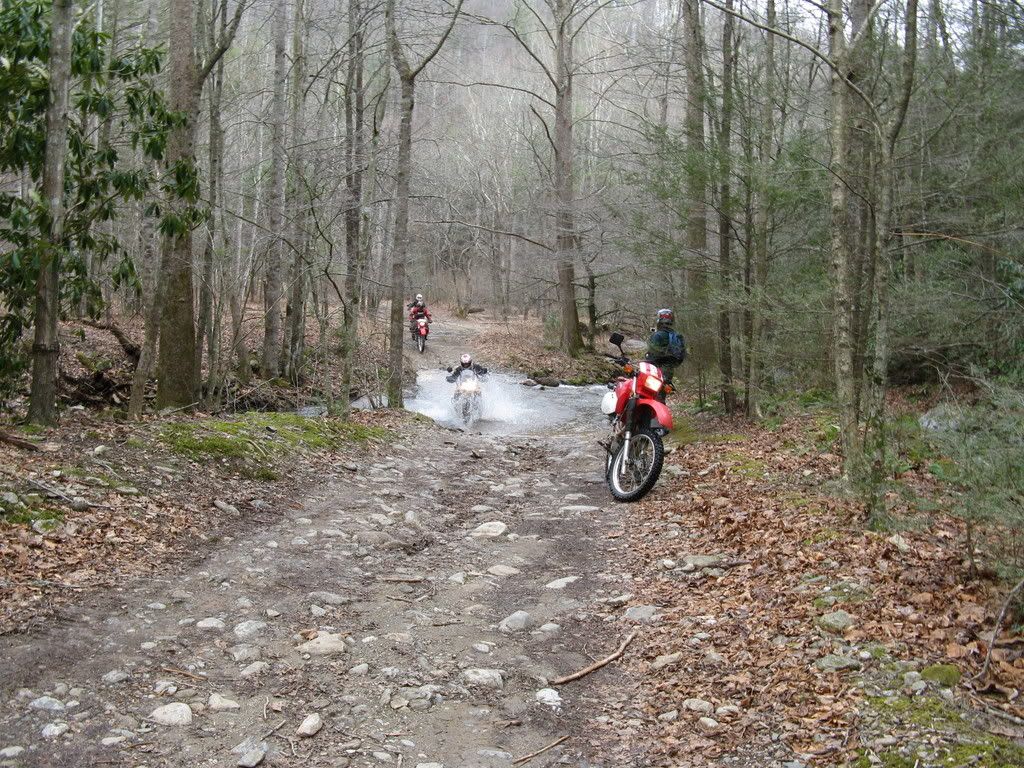 KevinB (who is not a member on the forum yet) fighting that big XR as he bounces off the rocks in the creek bottom...
In case you can't see it very well, KevinB went down in the creek and you can barely see his helmet thru the trees. I hope Gaston got a better shot of this to post since he was standing right there...and yes he did go help KevinB pick the bike up...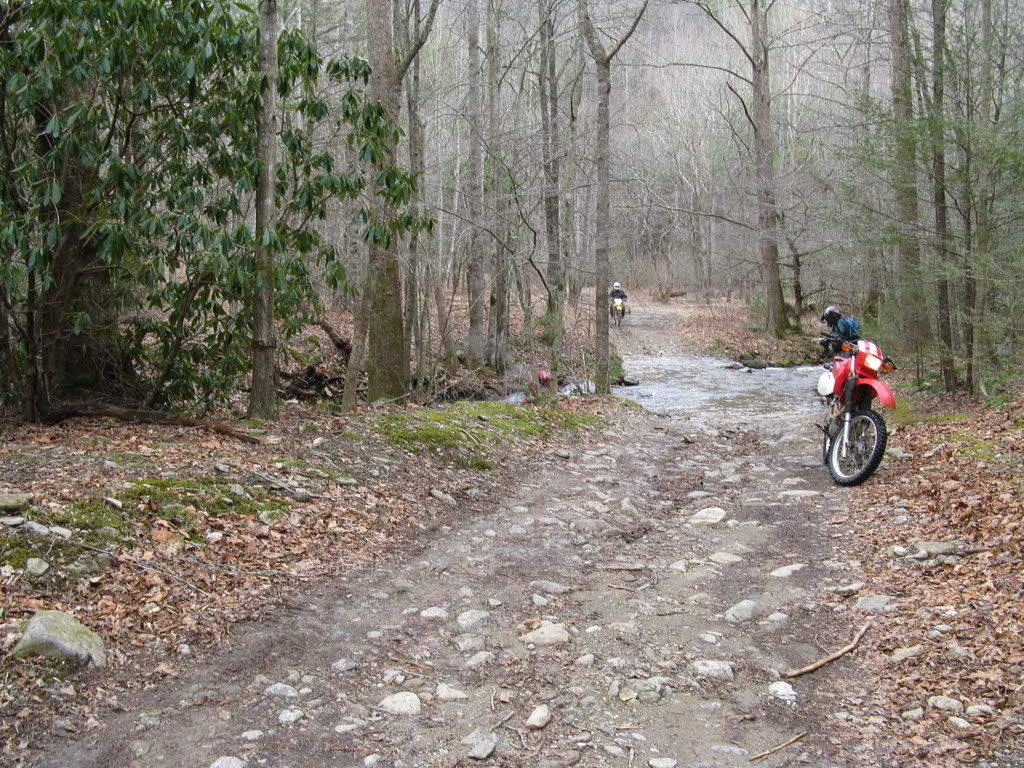 We moved on to the next but smaller playground and found some of those darn 4x4 guys going at it...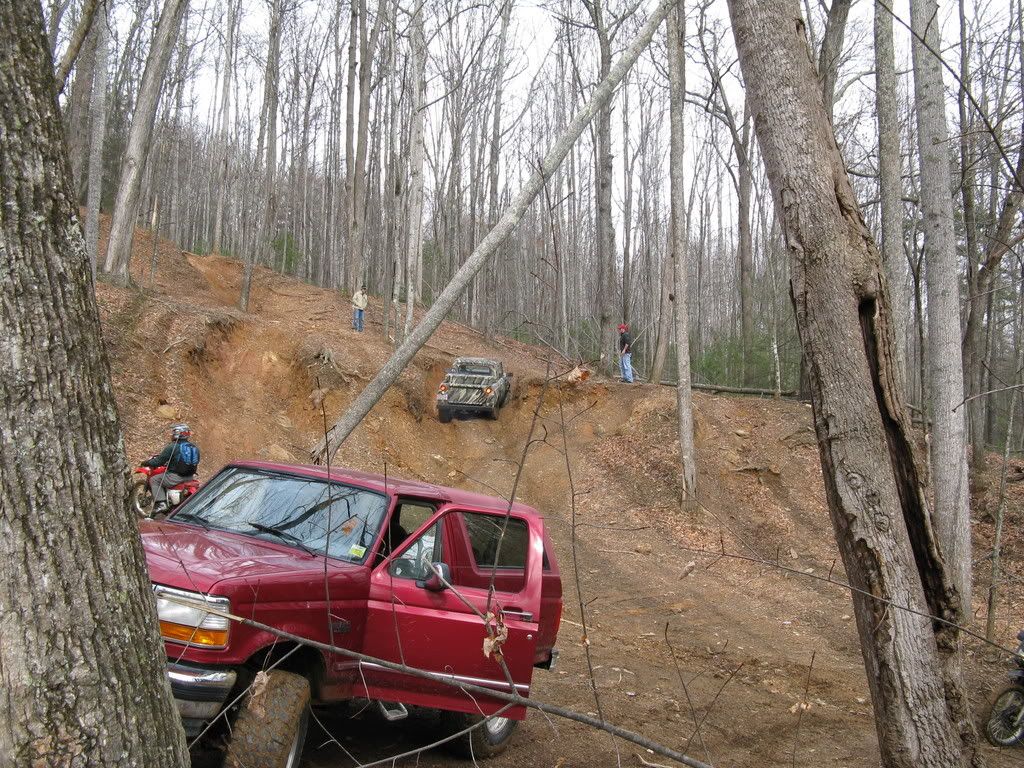 Gaston touring the hillside...
Mr. Camo got stuck on the hill as the vultures on those darn dualsports kept buzzing around...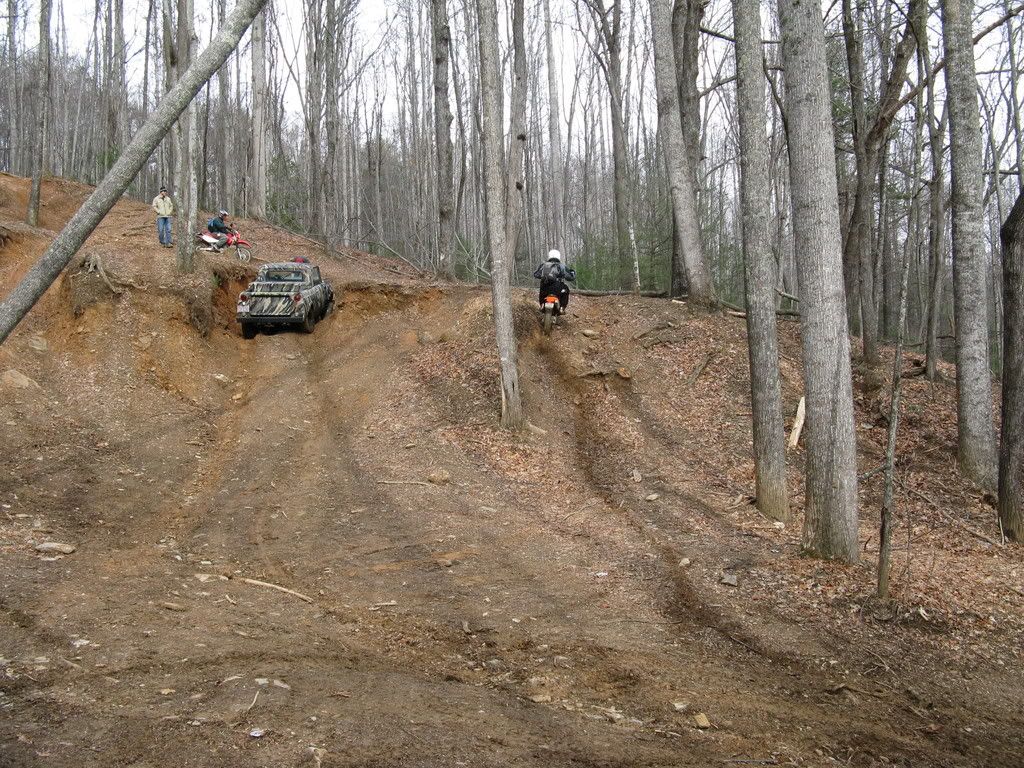 Nichelob on the "Orangatang"...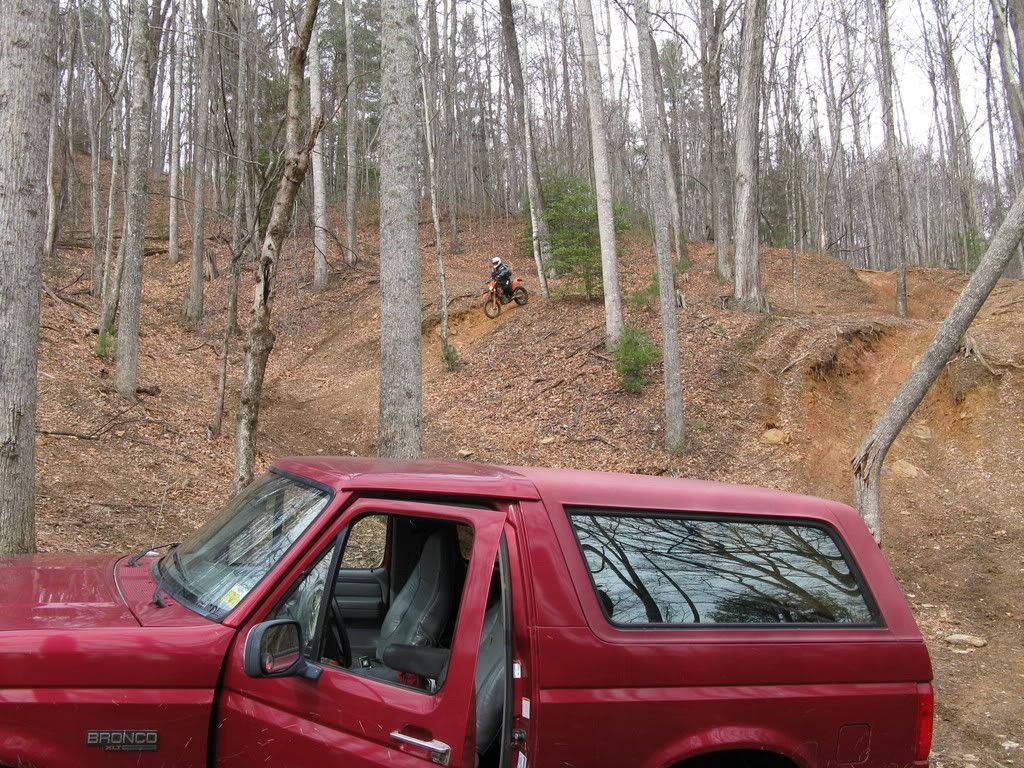 This is the longest creek crossing, but not the deepest. Wanderer putting the DR thru its paces..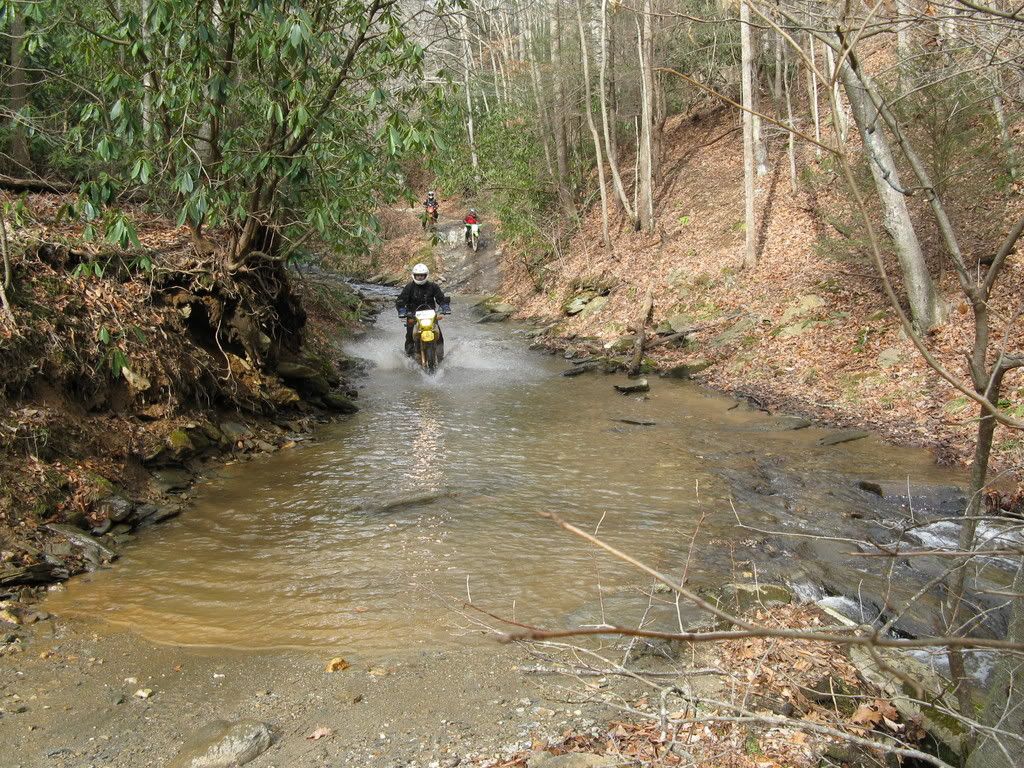 Lucky on his KLX (not sure if he's a member on here or not)...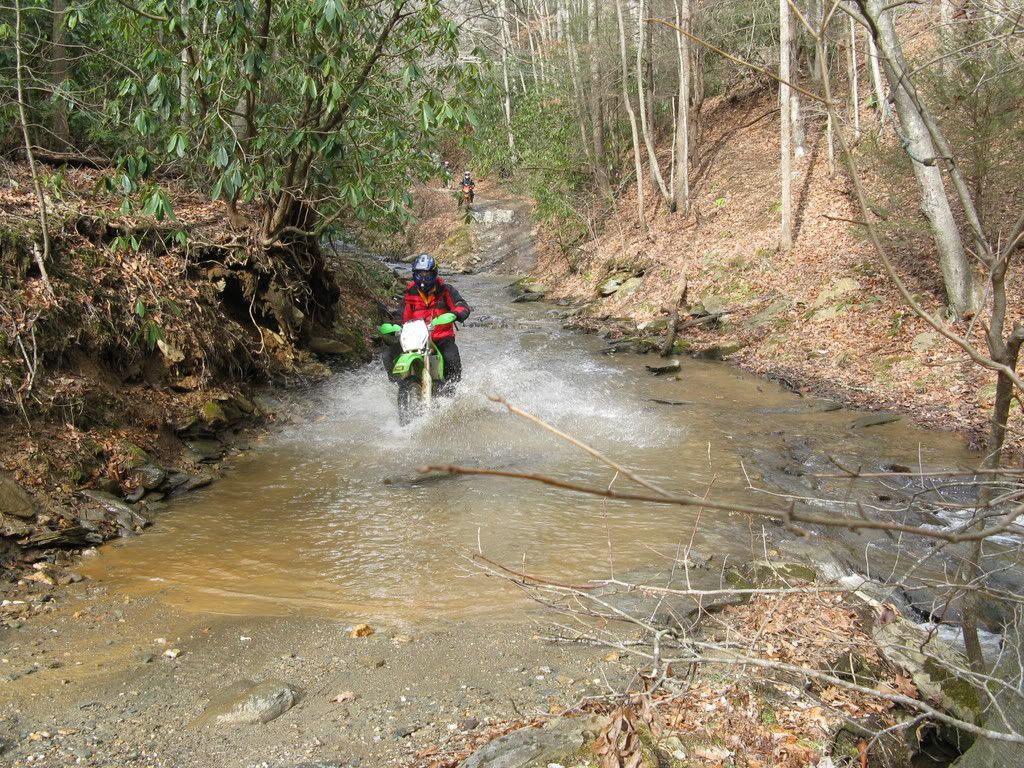 Adverb...
KevinB redeeming himself after the last spill...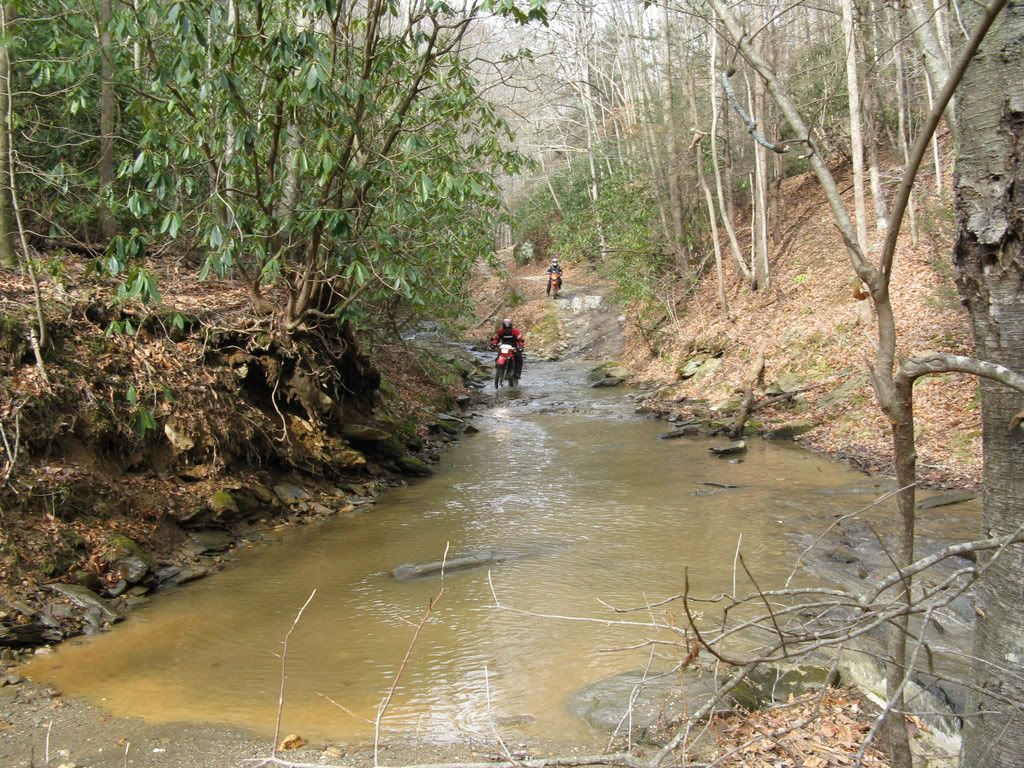 KevinB again. (Notice how muddy the water has gotten. That's why I always try to be 1st thru any creek crossings so I can see what lies beneath!
Although sometimes it doesn't hurt to watch another's line so you know where NOT to go. LOL)
Nichelob...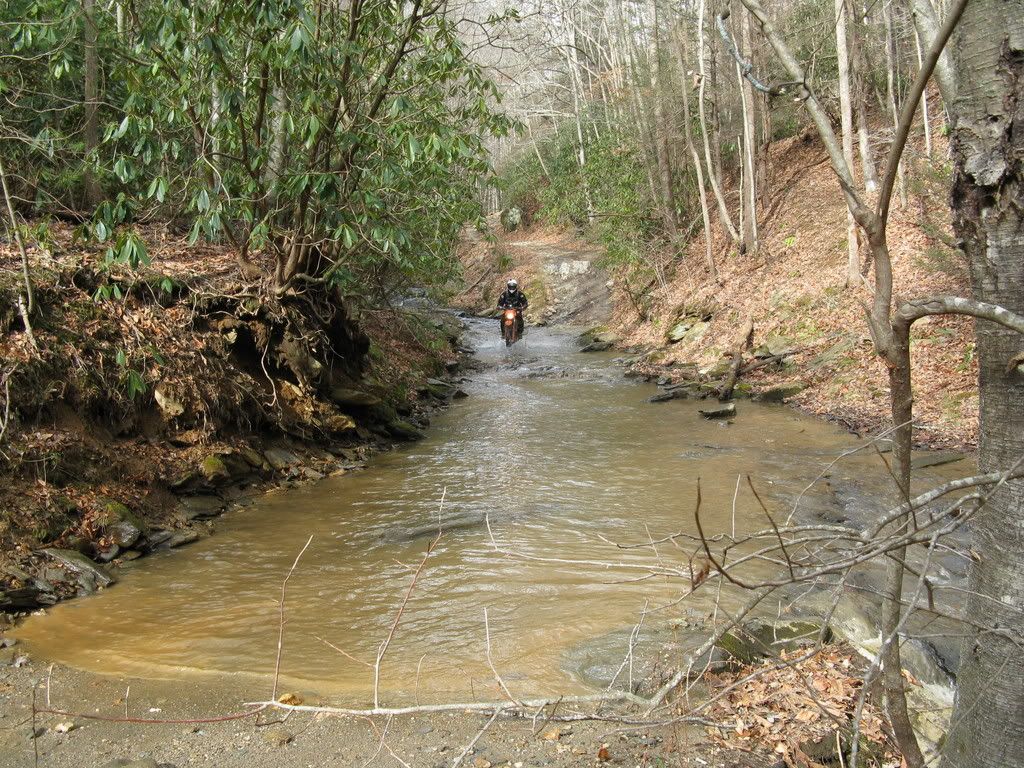 Is he smiling under that helmet? I'd say he likes this route so far...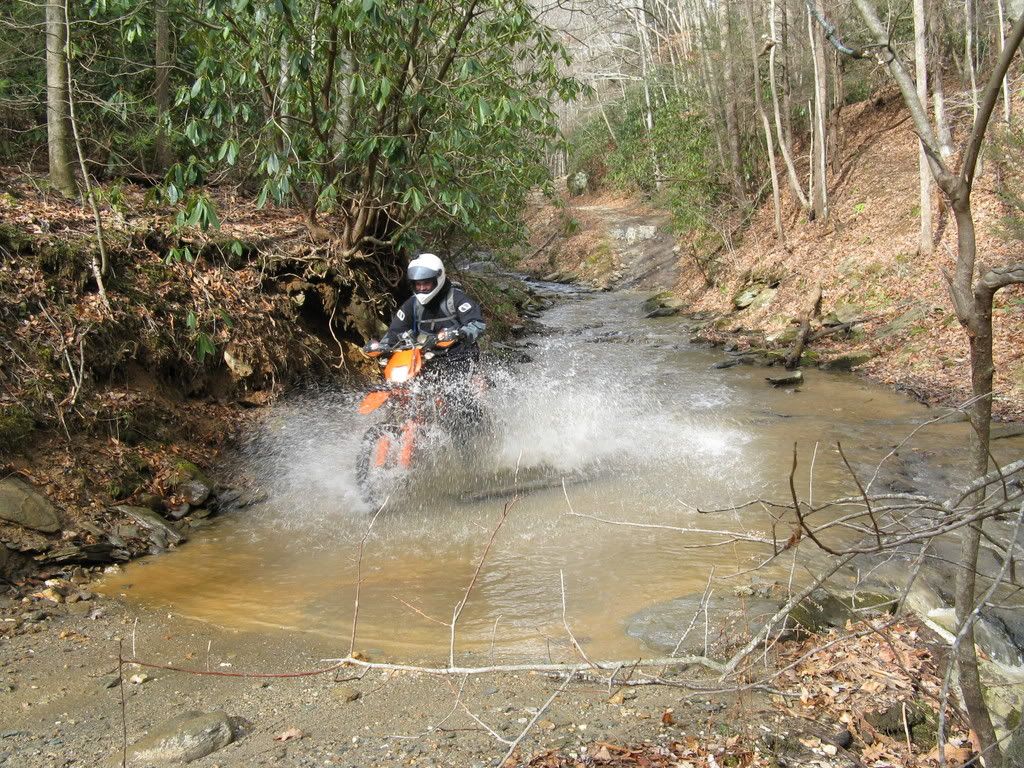 Lucky again as we come to the end of the Richlands...
FJRman on his DRZ...
KevinB...
Wanderer setting off the tidal wave that flooded Lenoir today! His bike was really clean after that though...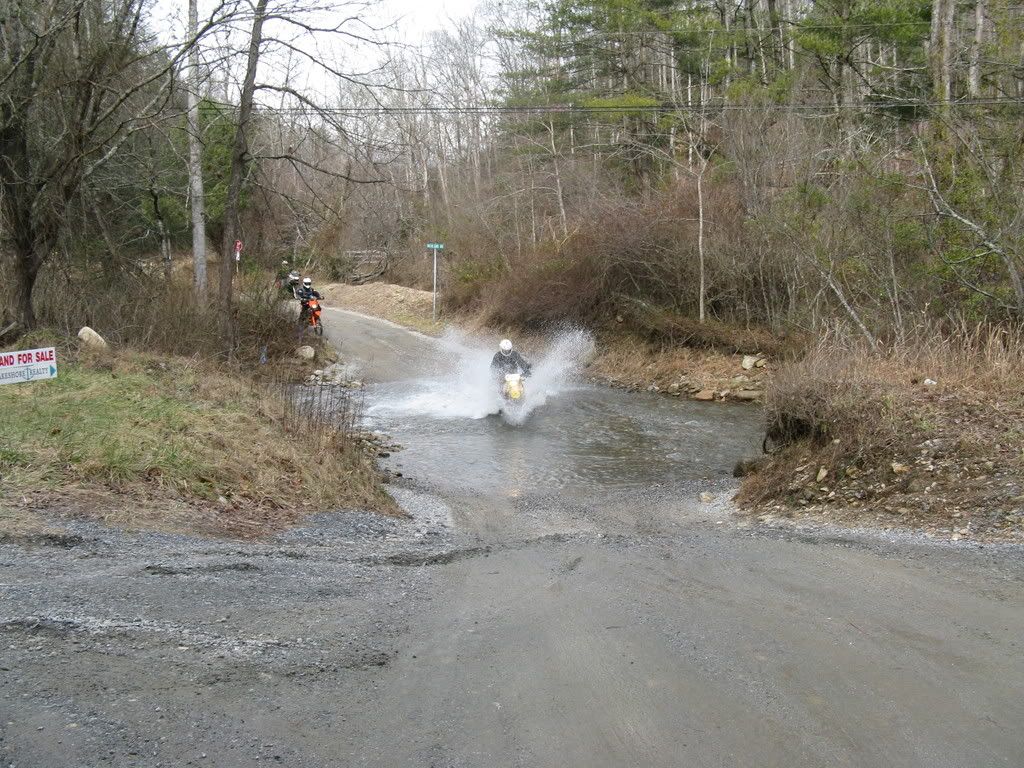 Nichelob washing his KTM...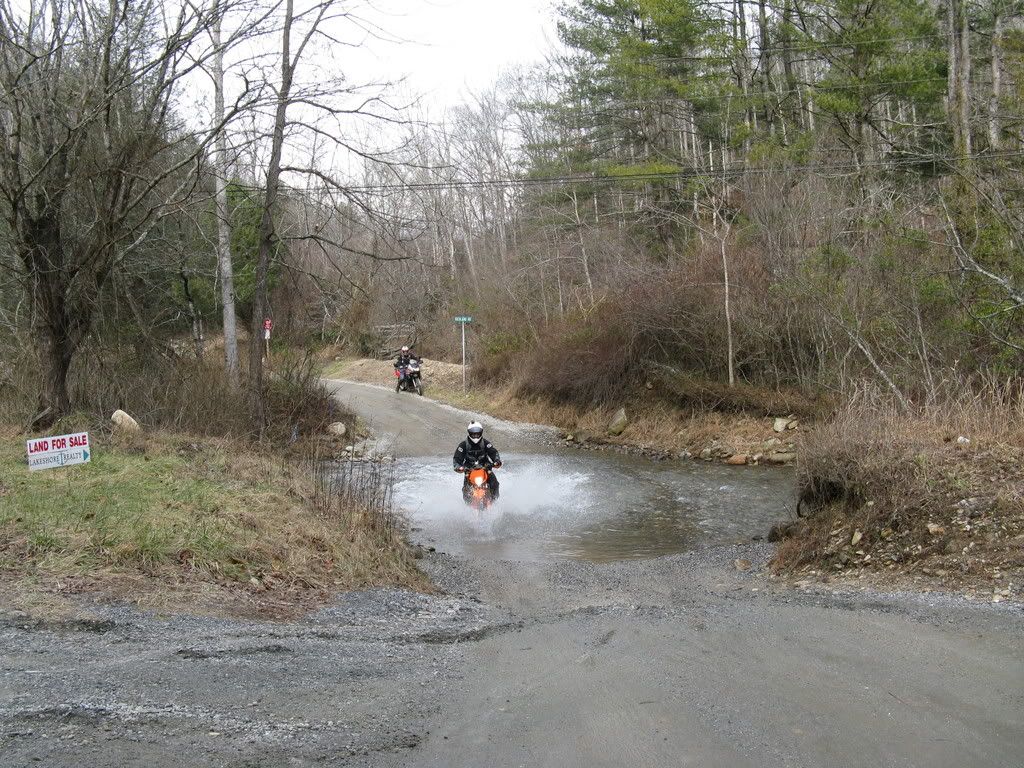 Adverb finishing his run thru the Richlands...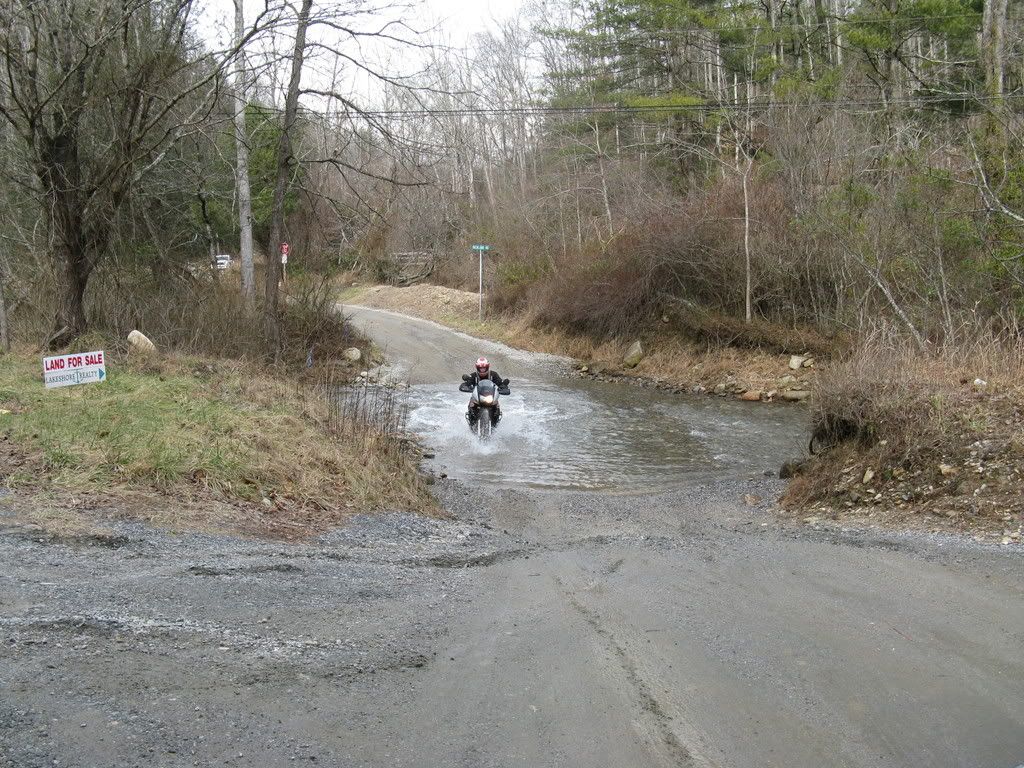 Next it was on to see if Dave wanted to do any rock climbing...no go today, maybe next time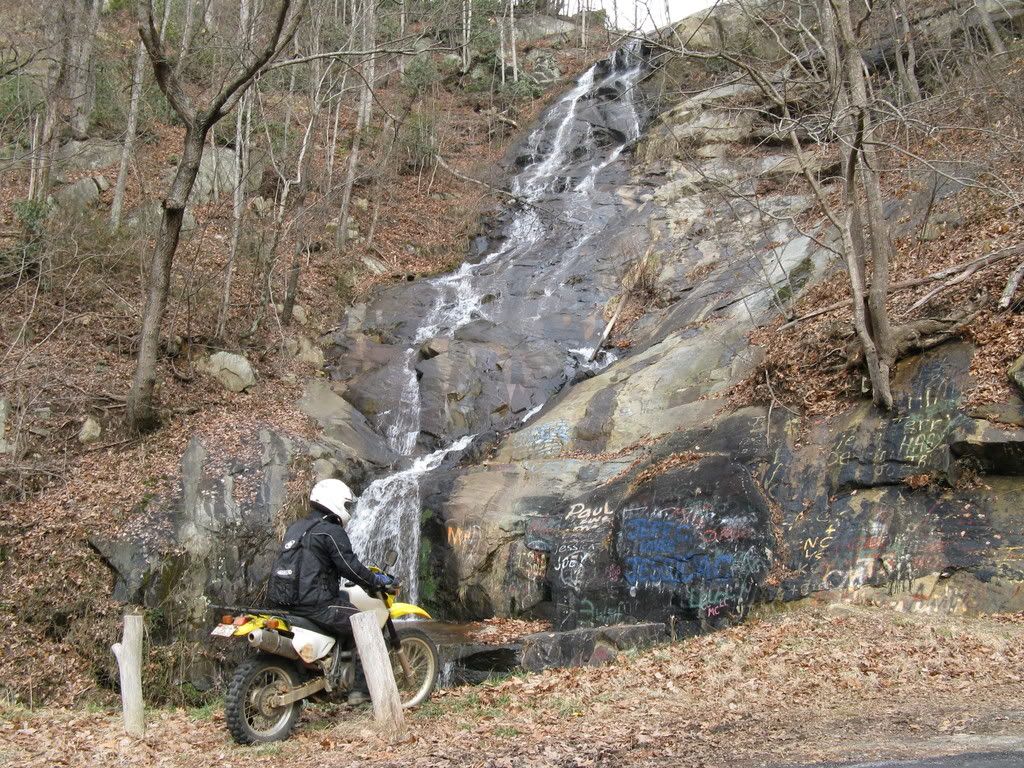 It took us a little while to get thru the Richlands since we were playing around so after that we just put down some miles and made up time. Therefore, I didn't snap any pics til we got up to the BRP via several gravel/forest roads. Then I got a couple rolling shots...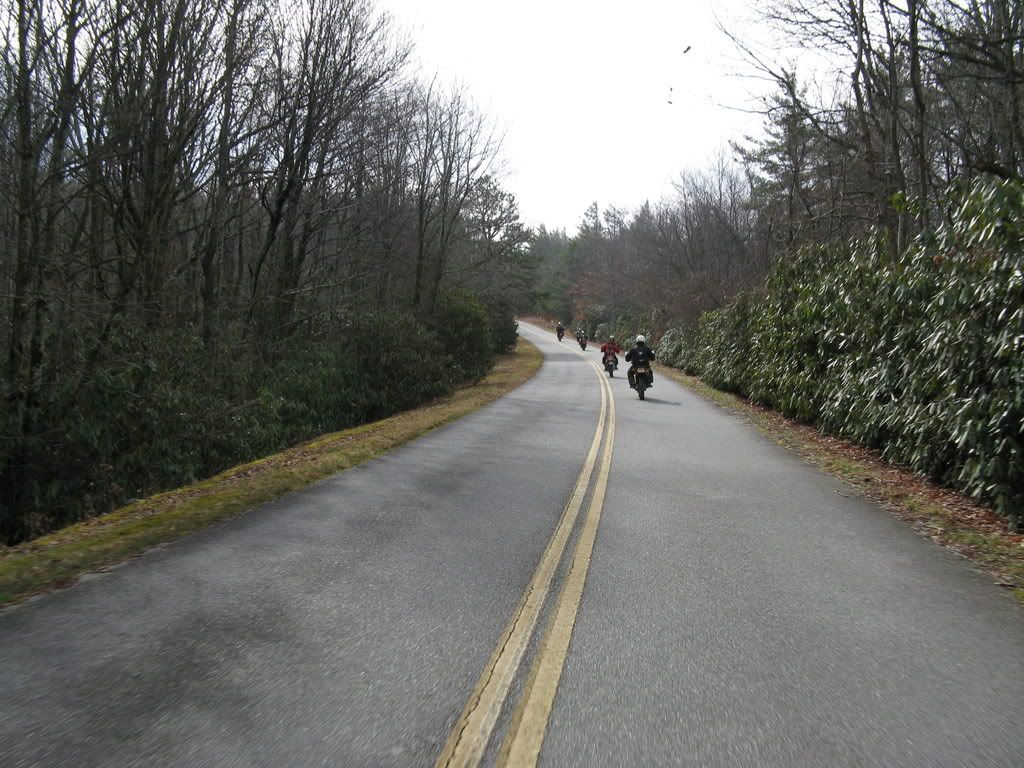 Finally, our late lunch destination. Jonas Ridge Outfitters at the top of Hwy181...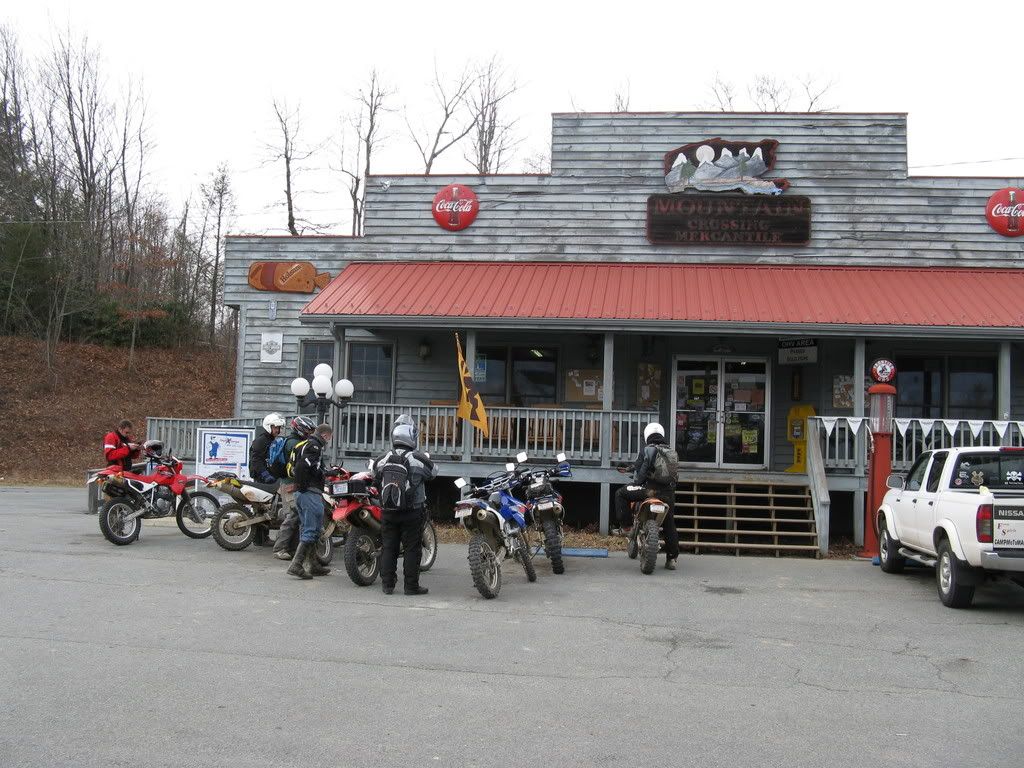 Here's where I'm gonna pause a minute and let the others post if they wish. Stay tuned...